Dear Folks,
I had a bump up in my 2000 BMW 740 and after the crying stopped I went home.  I only live a few blocks from the collision center on 52N and saw the sign "We service all makes and models."  OK, we'll see.  So the next day I went to my insurance company and they asked if I had an estimate yet.  "Nope, but I'm headed to Scenic Ford now."  I went in and talked to Sidney.  He looked the car over and in short order came up with an estimate.  Too low I thought for a BMW.  But he's the pro, I'm not.
A couple days later he called to say the car was ready.  When I saw it I about died.  It looked BETTER than the day I bought it.  I couldn't believe it was mine.  A friend of mine took me up to get it that night and looked it over and said I need to wreck it more often.  You guys did such a fantastic job.  I work for a local utility and go to a lot of homes and businesses a day and once in a while they have a car that needs attention.  I make a point to tell them of the GREAT job you did on my BMW.  My hat is off to you!
Bob Johnson
A few weeks ago I backed by 2008 Taurus X into a tree.  It broke my tail lamp and dented the quarter panel.  I had intentions of replacing the tail lamp and leaving the dent.  My son Len sent it to Scenic Collision Center for repairs.  When I got the car back it was if it was new.  I've been doing business there as long as I can remember and I have all my personal service and body work done with Scenic.  When I need one repaired I can't think of a better place.
Glenn Wood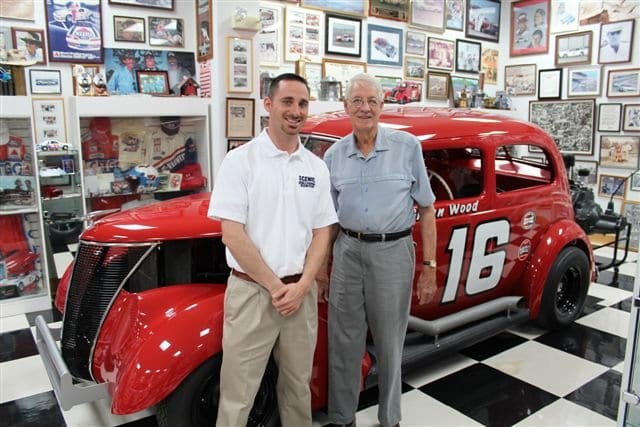 Glenn and Sidney